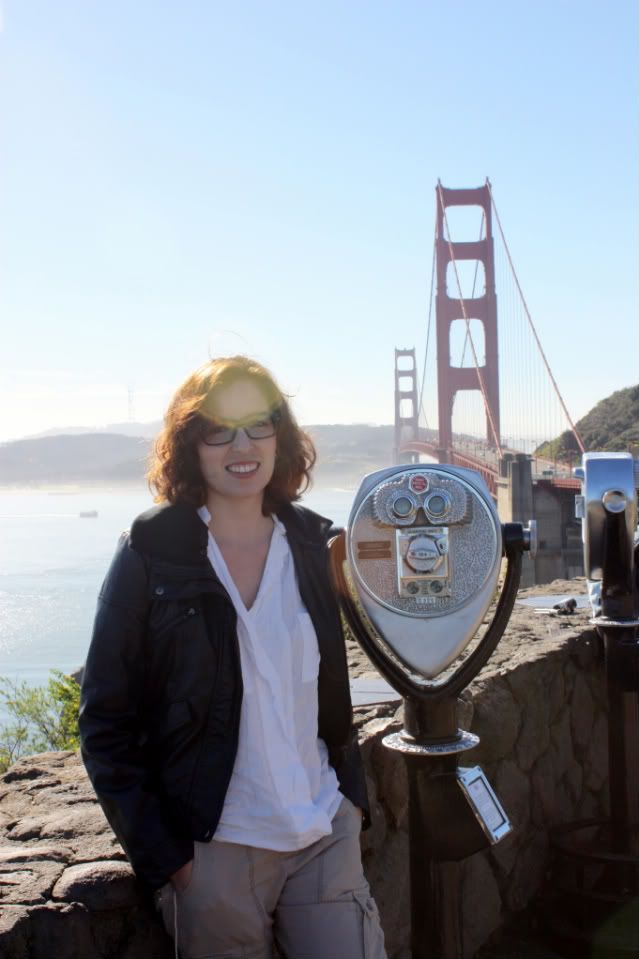 Don't mind the sun flare on my face. It was such a gorgeous day!
Clam chowder from Boudin at Fisherman's Wharf.
You actually can see Alcatraz Island in this photo.
Jeff's cousin Sarah and her boyfriend Dan wanted to visit San Francisco while they were in town last week, so I got to play tour guide and show them around. As a kid, San Francisco was only a short drive away from San Jose and we were there quite often on the weekends. Sometimes all it took to make the quick drive up
280
was a craving for clam chowder or fresh crab.
We were pressed for time because Sarah and Dan had a flight to catch, but we made sure to see some of the more famous San Francisco attractions. We had clam chowder at Boudin's at Fisherman's Wharf, drove across the Golden Gate Bridge, chased a cable car, drove down Lombard Street, and to satiate Dan's love of the TV show Full House, we went to Alamo Square so he could see the row of old Victorian houses featured on the show's intro. We also went to the actual house used by the Tanner family in the show (Dan's idea, not mine!).

It was a beautiful day to be in the city, but even during the coldest or foggiest of days, I still think San Francisco is a fun place to be.
Every time I head into SF, I know why a song like "I Left My Heart in San Francisco" was written.