Mount Faber
is a misnomer. They should have named it
Mound
Faber, because it really isn't much more than that. It used to be called Telok Blangah Hill until the man who cleared a road to the top of it decided he wanted the hill named after him. There is a merlion statue at the top, and a terraced area where you can walk around and take photos of the neighboring areas.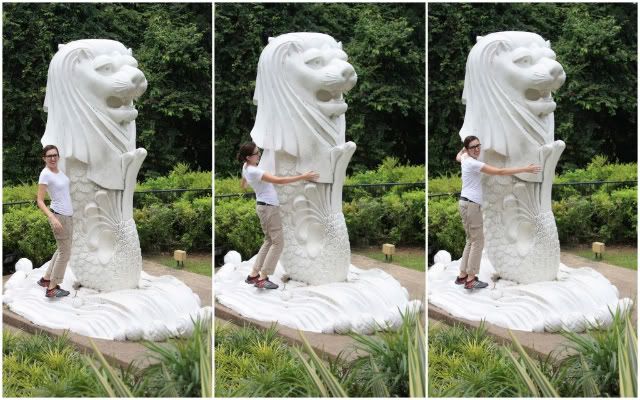 Merlion, I love you this much.


Despite my disillusionment with what I thought would be a morning hike (this is the first time I've been on a hiking trail comprised of stairs and sidewalks), we had a pleasant morning here this past weekend.
A view from the top of Mount Faber towards Telok Blangah. It was a bit hazy the day we went.
You can also access the
Henderson Waves
from Mount Faber. Henderson Waves is the tallest pedestrian bridge in Singapore and at night is beautifully illuminated with LED lights. It is part of a series of trails called the Southern Ridges which connects parks in the southern part of Singapore. We didn't see it at night, but the bridge is still pretty spectacular during the day.
And here are some gratuitous dog photos I took later that day.
Stan and Jeff taking a nap together.
Little Joe. He'd rather nap alone.
If you're interested in visiting Mount Faber and Henderson Waves, it can be done in less than a few hours. It will take you longer if you decide to continue your journey through the rest of the Southern Ridges. You can even take a cab all the way to the top of Mount Faber (and back to the bottom, if you don't feel like walking down stairs to get back down). Go on a clear day for a better view. Check out the Singapore Parks and Gardens page
here
for more information.