Every time I take the bus somewhere from our house, I pass by a sign pointing to
The Sri Senpaga Vinayagar Temple
in the Katong neighborhood off East Coast Road. The ziggurat-like roof of the temple always catches my eye as I drive by. I finally got a chance to check it out yesterday while wandering around with my friends
notabilia
and
Singapore Noodle
.
The temple has a foundation stone dating to 1915, and inside is a mural depicting the temple's growth and construction over the years. It is a temple that was built by Sri Lankan immigrants who settled in the Eastern part of Singapore. Some members of this community owned cattle farms in the area. As far as I know, there are no more farms in the Katong area, but the temple still stands and was actually renovated a few years ago. The Sri Senpaga Vinayagar Temple is the second oldest Hindu temple in all of Singapore. You can read more about the history of the temple
here
.
Beautiful carvings such as these can be found inside and outside the temple.
Foundation stones in a wall of the temple; this one dating back to 1915 is the oldest.
More beautiful carvings. According to this infopedia page from Singapore's National Library, 27 artisans were flown in from India to work on these carvings which were part of the temple's most recent renovation.
This elaborate mural is on the ceiling.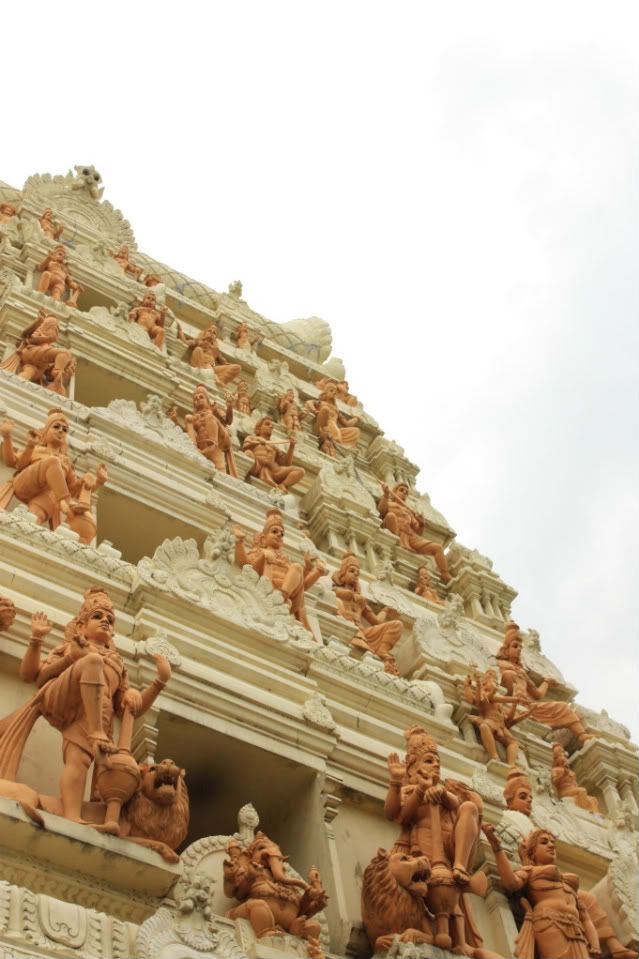 Photo taking looking upwards at the terraced roof of the temple. Absolutely beautiful!