It's hard to walk by an ice cream vendor in Singapore and not buy an ice cream sandwich. Or maybe I just have a weakness for ice cream, especially when it's hot out. You can get a slab of ice cream served on bread, in between two wafer cookies, or in a cup. Surprisingly, ice cream served in bread is actually really good. My favorite way to order it is as a wafer cookie sandwich.
The ice cream vendors are often in areas of Singapore where lots of tourists go, like Orchard Road or the Bugis Street area. Sometimes you can find an ice cream vendor at East Coast Park. You can usually spot them by their big umbrellas.
Pick a flavor, pay a buck or two for your ice cream. Most carts usually have chocolate, red bean, durian, chocolate chip, ripple, blueberry, mango, sweet corn, chocolate mint chip, and ripple flavors.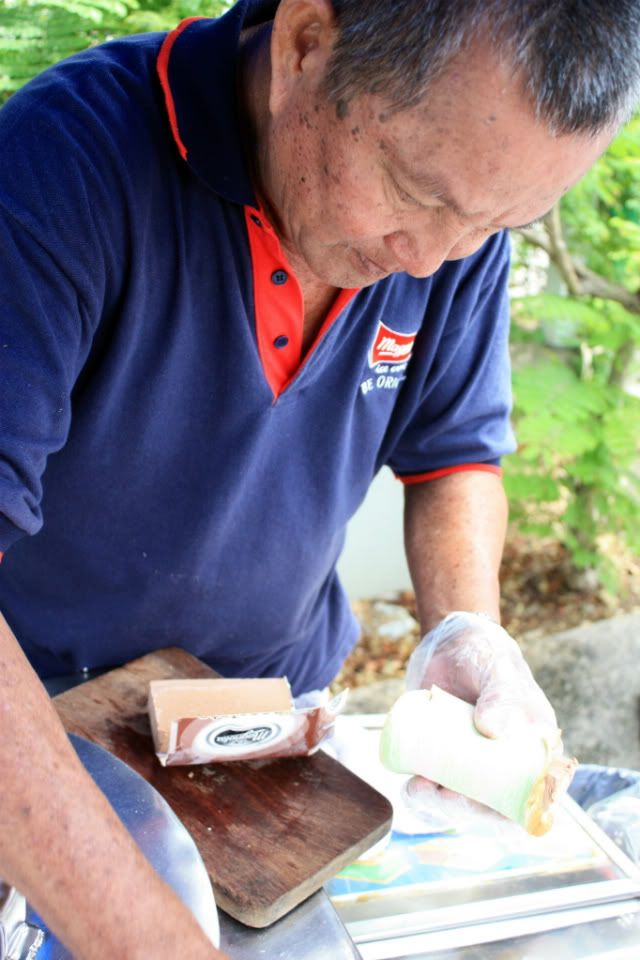 The ice cream uncle pulls a block of ice cream out of his cart and cuts it into a slab.
Chocolate and durian ice cream sandwiches. No one liked the durian flavor!
Red bean and blueberry are favorites. What's your favorite flavor?